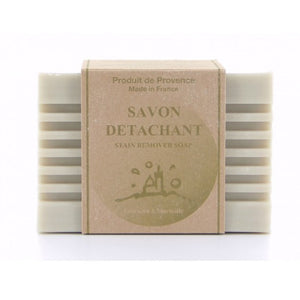 This bar of scented stain remover soap is made in the workshops of Marseille. It is enriched with Terre de Sommières whose stain-removing properties have been recognized for decades. It will quickly become your ally for removing stubborn stains from your laundry before going through the washing machine or washing by hand!
Terre de Sommières, 100% natural efficiency
Terre de Sommières was discovered in the 19th century near Montpellier, in the village of Sommières. This very fine clay powder has a strong absorbing, degreasing, stain removing and odor neutralizing power. It can be used directly in powder form. Our soap bar allows you a controlled, simpler and more practical use to overcome all stains naturally and gently for your textiles: fruit, grease, coffee, tea, blood, grass, wine, pen ink. No stain resists it!