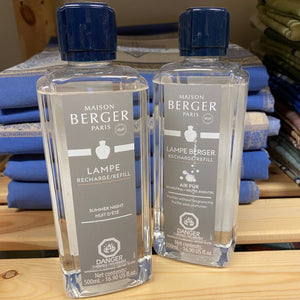 PLEASE NOTE:  DUE TO THE ALCOHOL CONTENT, MAISON BERGER FUELS ARE ONLY AVAILABLE IN STORE.
It was in 1898 , that the amazing Lampe Berger story started.
In response to a major preoccupation at that time - a sepsis in hospitals - Maurice Berger, a pharmaceutical dispenser, invented a system of diffusion by catalysis, for which he filed a patent. This revolutionary technology, which purifies the air in enclosed rooms, was soon to be applied for private use , giving birth to the Lampe Berger company.
Lampe Berger is a decorative fragrance lamp that destroys odours and bacteria in the air, while increasing the oxygen levels and perfuming your environment. Lampe Berger uses a catalytic burner that reaches 140 degrees Fahrenheit to combust a special alcohol based liquid fuel. The burning fuel releases molecules into the air that capture and destroy odours while dispersing essential oils.
Summer Night contains insecticide to repel mosquitoes and other outdoor pests as you enjoy your evening on the patio. The Summer Night fragrance sparkles with joyful bursts of orange and the freshness of eucalyptus.
An essential for any home, the Air Pur So Neutral purifying solution is the key to ensuring the purity of the air you breathe. Pair Air Pur with any Lampe Berger to eliminate undesirable odours in your home without adding fragrance. Those who prefer to subtly perfume their home can use this solution to dilute any Maison Berger home fragrance to modulate the intensity. Use Air Pur between fragrances to clean your Lampe Berger and extend the life of your lamp. Your quest for pure air begins here.