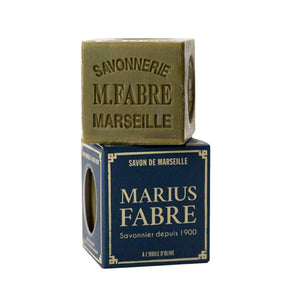 A natural product:
For more than 120 years and four family generations, we have been making our Marseille soap from exclusively, rigorously selected vegetable oils. It does not contain any coloring or synthetic additives. It is not derived from petroleum derivatives or animal fats, like the majority of commercial soaps and shower gels.
Gentle on the skin, natural and effective:
The "Marseille-style" manufacturing process guarantees an "Extra pure" soap, rid of all impurities. It takes care of all skin types, in particular the most sensitive (babies, allergic skin, etc.) Olive oil brings its nourishing properties: Marius Fabre Marseille soap with olive oil helps to reduce the dryness of the skin.
Environmentally friendly and economical:
Pure vegetable, biodegradable, without phosphates or synthetic products, it does not pollute the rivers and contributes to the preservation of the environment. Plus, it requires very little packaging. It lasts a very long time, especially when dried. Its longevity makes it a particularly economical product.
USE
For washing hands
For washing the face and body
Can also be used for washing clothes
INGREDIENT BENEFITS
Skin-friendly, natural and effective
Environmentally friendly and economical