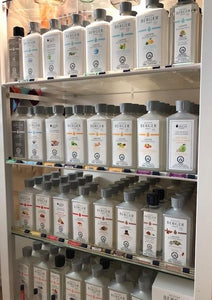 PLEASE NOTE:  DUE TO THE ALCOHOL CONTENT, MAISON BERGER FUELS ARE ONLY AVAILABLE IN STORE.
It was in 1898 , that the amazing Lampe Berger story started.
In response to a major preoccupation at that time - a sepsis in hospitals - Maurice Berger, a pharmaceutical dispenser, invented a system of diffusion by catalysis, for which he filed a patent. This revolutionary technology, which purifies the air in enclosed rooms, was soon to be applied for private use , giving birth to the Lampe Berger company.
Lampe Berger is a decorative fragrance lamp that destroys odors and bacteria in the air, while increasing the oxygen levels and perfuming your environment. Lampe Berger uses a catalytic burner that reaches 140 degrees fahrenheit to combust a special alcohol based liquid fuel. The burning fuel releases molecules into the air that capture and destroy odors while dispersing essential oils.
Specifications: 500ml