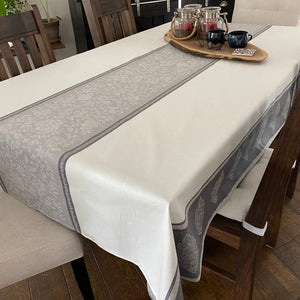 Jacquard tablecloths are ideal for all occasions.  These tablecloths are are treated with an acrylic induction double-layer and Teflon®, hence they are covered by a fine, invisible resin layer which deeply protects the fabric. Liquids will not penetrate and stains will easily come off when washing, even at a low temperature. You only need to iron it on the reverse to re-activate the Teflon® coating. 
Available in approx. 64"x80", 64"x100", and 64"x120".
Displayed on a 42" wide table.