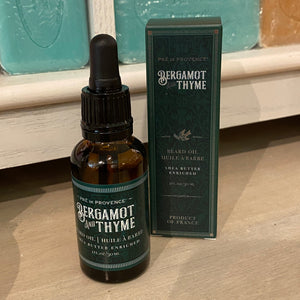 Keep your beard soft, shiny and smooth. Organic Sunflower Oil, Liquid Shea Butter, Sweet Almond Oil and Vitamin E hydrate to lock in moisture. Freshly scented in Pre de Provence's Bergamot and Thyme fragrance. Gentle, moisturizing shea butter makes it ideal for use before or after shaving for achieving smooth, soft skin.
Some facts about Shea Butter:
Shea butter is known especially for its cosmetic properties as a moisturizer and emollient. It is also a known anti-inflammatory agent. It is known as being effective at treating the following conditions: fading scars, eczema, burns, rashes, acne, severely dry skin, blemishes, dark spots, skin discolorations, chapped lips, stretch marks, and wrinkles. Shea butter absorbs rapidly into the skin without leaving a greasy feeling.
30ml